Recently, Children's Rights staff traveled to Minneapolis to take part in the National Association of Counsel for Children's (NACC) 46th conference, From Learning to Action: Shared Accountability for Disrupting Harm and Promoting Healing. The theme recognizes that all system actors have a shared responsibility to promote family integrity, center the voices and experiences of individuals with lived expertise, engage in authentic partnerships, and actively work towards equity and justice.
The conference featured talks by keynote speakers Sandy White Hawk, a Sicangu Lakota adoptee and a national expert and spokesperson on issues of adoption and the child welfare system, and David Ambroz, a national poverty and child welfare expert and advocate. Several Children's Rights staff members also presented on various panels. Director of Advocacy and Policy, Shereen A. White, was honored as NACC's 2023 Outstanding Legal Advocate in recognition of her work to bridge the rights of children and parents, building coalitions, and leading advocacy campaigns to protect the integrity and well-being of families.
As a newcomer to the child advocacy space, this conference offered an exciting opportunity for me to listen and learn from experts, including those with lived experience. But what inspired me most was the willingness and excitement every attendee showed for hearing about new perspectives and ideas.
Leading with Lived Expertise
Children's Rights Advocacy and Policy Fellow Alexandria Ware, youth advocate Marquan Teetz, and Kristen Powell, member of NACC's National Advisory Council on Children, engaged the audience in a dialogue on the harms of so-called "child-serving" systems, and the need to replace punitive models with ones based on healing and justice.
Alexandria and her fellow presenters didn't shy away from tough topics, and spoke unapologetically about the harms that those working within the system can cause to children and families. Dialogues such as these highlight the importance of centering the voices of lived experts in our work, and ensuring that they are not only included in the conversation, but leading it.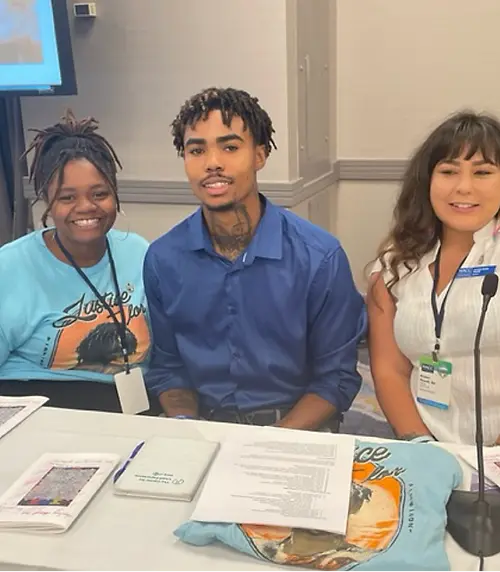 Preserving Sibling Connections
Many children and young adults who pass through the foster system cite separation from their siblings as one of the experiences that left them with lifelong emotional scars. Leecia Welch, Deputy Litigation Director at Children's Rights, led a panel alongside Lily Colby, founder of With Lived Experience, and lived expert Tisha Ortiz to discuss the relationship of sibling connections to positive outcomes in the foster system.
Leecia gave a background on the disparate laws related to siblings at the federal and state levels, and stressed the need for consistency and a greater focus on enforcement. A role-playing session with audience members acting the parts of children, caseworkers, and others demonstrated the lack of communication between different stakeholders within the system, and for those of us playing children, truly hammered home how youth are largely left in the dark with very little say about what is best for them.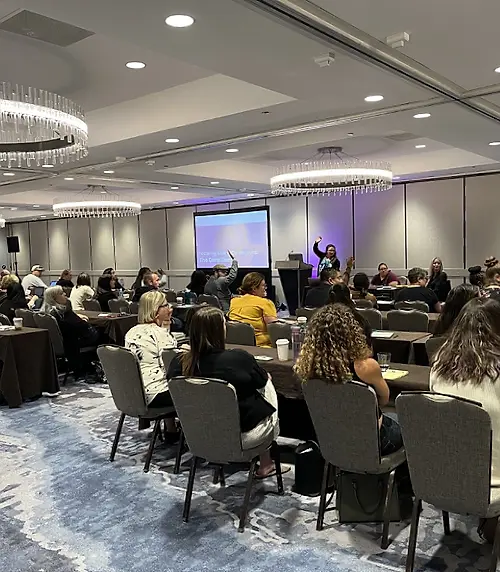 Update on TNGD Youth in Systems
In advance of the publication of Safe Havens, a national report on current laws and policies governing transgender, nonbinary, and gender diverse (TNGD) youth in child welfare and juvenile legal systems, its co-authors provided information and discussed strategies to promote the safety and wellbeing of this uniquely vulnerable population. Panelists included Children's Rights Senior Staff Attorney Daniele Gerard, Alexander Coccia, Senior Policy Analyst at the Center for the Study of Social Policy, Sruti Swaminthan, Staff Attorney at Lambda Legal Defense and Education Fund, and Elliott Hinkle, founder of consulting firm Unicorn Solutions.
Panelists described the current moment for TNGD youth as a time of dichotomy, with significant improvements made in some areas and jurisdictions, while at the same time in 2023 nearly half of states have laws or policies in place specifically targeting TNGD youth. Elliott described how Safe Havens centers the powerful voices of seven lived experts throughout the report to share their insights and recommendations for change.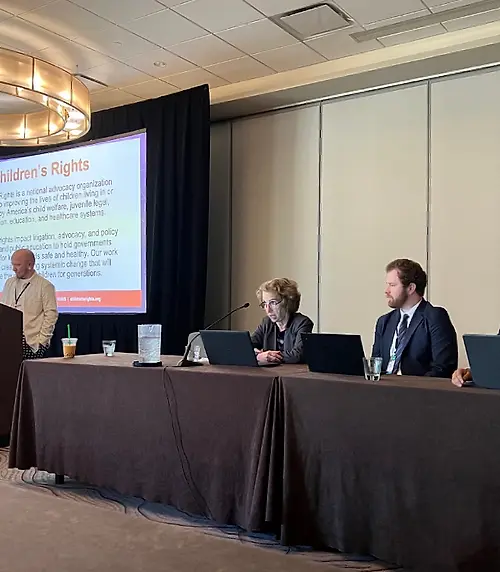 Crisis Response for Youth
The US is in the midst of a mental health crisis, and youth are being especially affected. However, over 60% of children who suffer from depression don't have access to mental health treatment. Additionally, youth with mental health conditions are more likely to become involved with the juvenile legal system. Children's Rights Policy Analyst, Meredith Giovanelli, and Whitney Bunts, Senior Director of Public Policy at True Colors United, discussed the intersection of mental health and the child welfare, housing, and juvenile legal systems.
Mobile crisis response models are meant to provide a framework of care that can help meet those experiencing a mental health crisis where they are. To be truly effective and safe for the youth they serve, we must ensure that these mobile responses meet several criteria, including being non-punitive, accessible, and tailored to the needs of each individual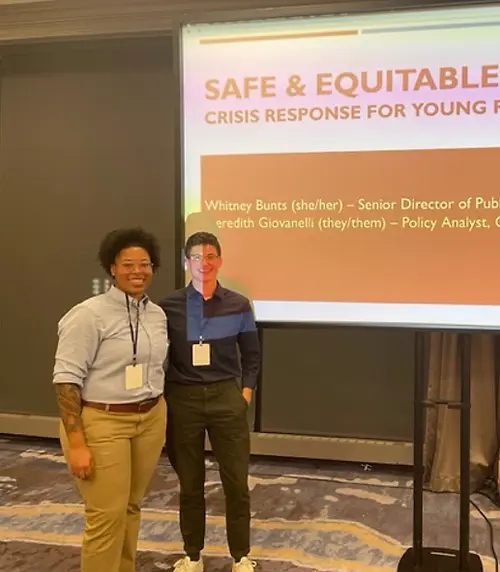 My days at the conference were a reminder of a lesser-known part of our job advocates – to listen and learn, constantly. And no one in attendance could have missed the message that we have so much to gain by having those with lived experience lead the conversation, and ensuring our work is guided by their expertise.