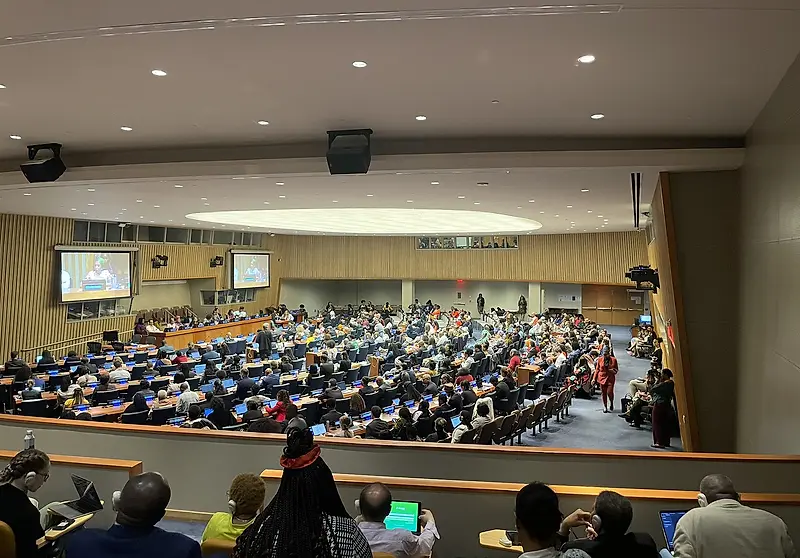 On May 31, Children's Rights, JMACforFamilies, and the ACLU welcomed over 200 people from across the US to Healing Historical Trauma, a virtual gathering to learn and reflect on the historical harms the US child welfare system (family policing system) has and continues to inflict on Black families, challenge the status quo, and dream of a world where the legal right to family integrity is no longer just a theory for Black families, but a sacred and upheld human right.
The event coincided with the convening of the 2nd Session of the Permanent Forum of People of African Descent (PFPAD2), an advisory body that works closely with the UN Human Rights Council. We gathered to make it loud and clear that we expect the United Nations and the Permanent Forum to publicly declare the forcible and traumatic separation of families of African Descent an urgent crisis and a human rights violation happening in the US and beyond, and deserving priority and protection in any Declaration on the Rights of People of African Descent.
The 2nd Session of the @UN_HRC PFPAD concluded today without giving us the floor & not a single member talked about the biggest crisis – the destruction of Black families! I came to this Forum to exercise my right to speak & be heard & that's exactly what I did – watch ⬇️ 1/2 https://t.co/jiUdIJ72eT pic.twitter.com/GtzG8vucUl

— Shereen A. White (@ShereenEsq) June 1, 2023
In the United States, the Fourteenth Amendment protects the right to family integrity, with protections against undue, forcible government separation of families. Parents have the authority to make decisions for their children and maintain privacy in their homes and family relationships. Unfortunately, these rights are frequently disregarded under the pretext of child protection, especially for Black families struggling with poverty.
The facts are well established. 53% of Black children are at risk of being investigated by child welfare services, and 1 in 41 Black children will have their parents' legal rights terminated before their 18th birthday. In 2021, after a decade of advocacy, the United Nations General Assembly created the PFPAD to enhance the safety and quality of life and livelihood for people of African descent worldwide. The PFPAD has the potential to be a space for people of African descent from across the world to come together and collectively call out, discuss, and take action on human rights violations experienced by our people. Our small but mighty team of advocates show up to name the anti-Black racism experienced by children and parents who suffer from the family policing system. Adding the right to family integrity in the Declaration of Rights for People of African Descent is a crucial step towards achieving justice for Black children and families.
Healing Historical Trauma was presented in the form of two thought-provoking panel discussions, each moderated by the amazing Angela Olivia Burton, Convenor, RepealCAPTA Workgroup. The first panelists discussed the deeply-rooted legal right of family integrity, autonomy, and privacy that government systems have historically and presently, blatantly denied Black families.
The second Healing Historical Trauma panel focused on the trauma, including intergenerational, of family separation and the impact on Black families' health and well-being and explored solutions to mitigate and eliminate those harms.
I was so energized to be surrounded by so many beautiful people of African descent – our panelists and our audience – who hung in with us for just over two hours of conversation, inspiration, a few laughs, and many tears. Working in community with people who have experienced the trauma of oversurveillance, policing, and forcible family separation and those who want to be part of the solution, we can end the cycle of racism, poverty, and family destruction and focus on solutions that support children and families.
As Angela said, "Family, in and of itself, is the foundation for everything." It's our responsibility to ensure that human right is fully realized.